INNOVATIVE MATTRESSES
FOR THE RECOVERY AND IMPROVEMENT OF ATHLETES' PERFORMANCES
SPORT&RECOVERY by Schlarafia
MATTRESSES FOR RECOVERY AND IMPROVEMENT OF ATHLETES' PERFORMANCES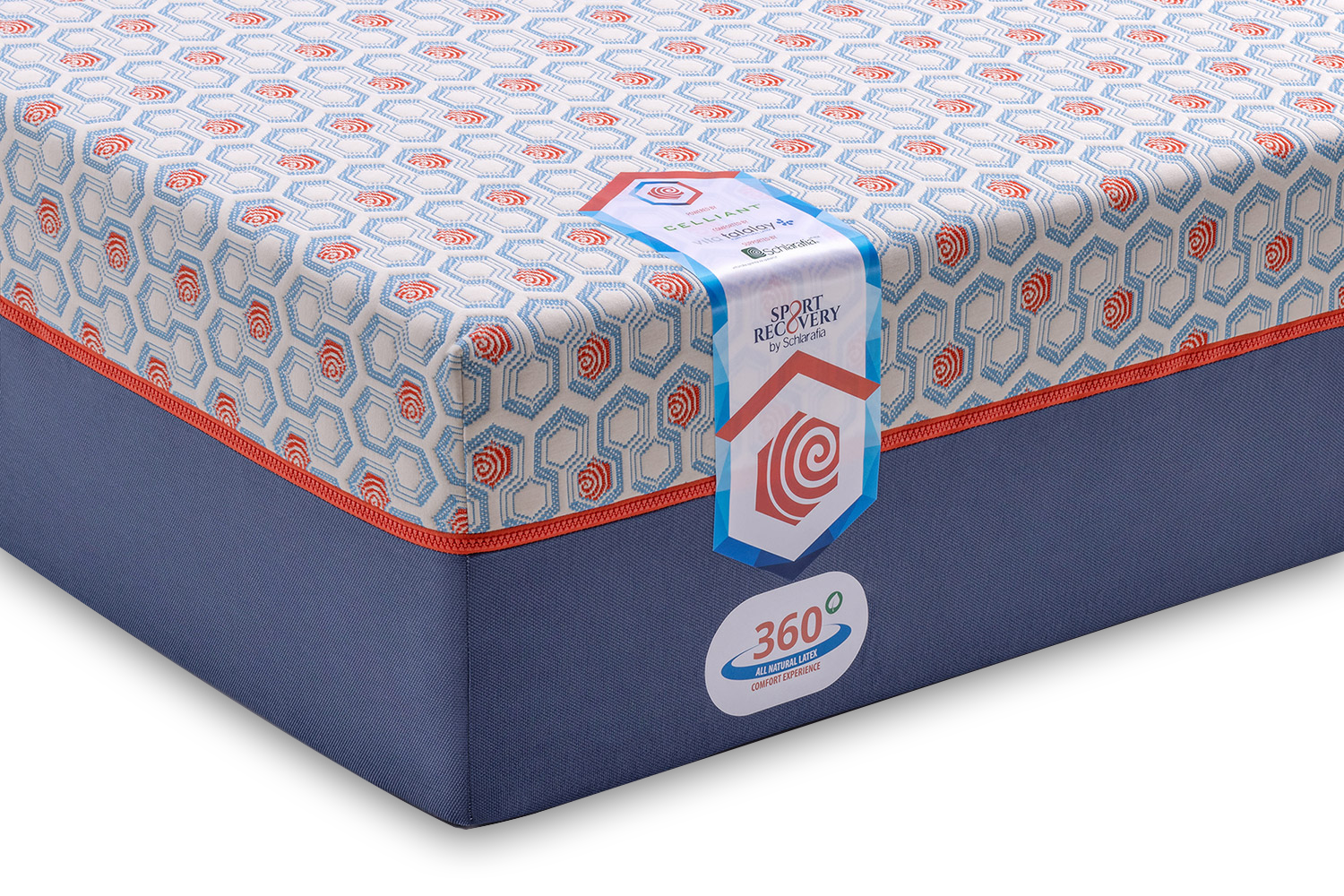 SPORT&RECOVERY by Schlarafia sleeping mats represent a concept that combines innovation, experience, and traditional skills.
SPORT&RECOVERY by Schlarafia mattresses are intended for professional athletes, active recreationists, as well as for all those who understand the importance of the time we spend sleeping in order to recover the entire body.
Sleeping on SPORT&RECOVERY by Schlarafia mattresses will help you recover after sports and other activities, improve your circulation, speed up recovery and increase strength and endurance in order to achieve better results both on a daily level and in the long run.
THE SAME PERFORMANCES – A COMPLETELY DIFFERENT FEELING OF COMFORT
Here you can see two models of SPORT&RECOVERY by Schlarafia mattresses, seemingly very similar, yet special when it comes to the feeling of comfort they provide. We present to you the SR1 ENDURANCE and the SR2 IMPULSE – mattresses for a lifetime, in every sense of the word.
CORE: SUPPORTED BY SCHLARAFIA
The heart and support of the SPORT&RECOVERY by Schlarafia mattress is a hand-knitted Schlarafia spring core with exceptional features for which Schlarafia products have been known for decades, supported by the patent decision issued by the Intellectual Property Office.
SCHLARAFIA'S HAND KNIT SPRING CORE: The best of domestic craftsmanship
Schlarafia's patented hand-knit spring core has as many as 35% more springs compared to a machine-made core, and therefore each spring suffers less stress, so our core lasts longer and has far better orthopedic-medical features. Schlarafia's patented handmade core acts like a large air bellows, which enables unhindered air circulation and ensures continuous airing of the mattress. 
OUR MOST SKILLED CRAFTSMEN need more than an hour to weave the core of a SPORT&RECOVERY by Schlarafia mattress. In contrast, a machine that produces ordinary industrial cores, far less dense and durable, "ejects" more than fifty cores at the same time. The training of our guys in manual work lasts for months and has been passed down as a valuable skill for decades.

COMFORT: COMFORTED BY VITA TALALAY
TALALAY is the only completely natural latex, a pure product obtained directly from the core of the rubber tree and contains small rubber particles in its original form. As a result of this extraction, natural rubber is produced. It should be borne in mind that natural rubber obtained in this harmless way makes up only 10% of the world's rubber production and is therefore very valuable.
Sleeping on a mattress made of 100% natural Talalay latex brings numerous benefits:
The comfortable Talalay foam layer is completely air-permeable.
This enables you not to be hot during the hot summer days, and not to be cold during the winter period.
This ventilation prevents the accumulation of moisture, the reproduction of vermin and makes the sleeping area clean and hygienically sustainable.
CERTIFICATES OF VITA TALALAY 100% NATURAL LATEX:
100% NATURAL TALALAY LATEX: What is it?
COVER: POWERED BY CELIANT
CELLIANT® is an innovative material that has the ability to transform the energy of body temperature into the entire spectrum of energy from the infrared spectrum, which improves local circulation and oxygenation of cells while simultaneously maintaining an ideal ambient temperature and keeping the contact surface of the body dry. 
What does that practically mean for you?
Thanks to sleeping on SPORT&RECOVERY by Schlarafia mattresses that have a high density of Celliant® fibers, your body will get better recovery, more strength and better endurance during physical activities, as well as during the daily routine, because your cells will be supplied with additional energy and oxygen.
Celliant® – How does it work?
During sleep, your body emits heat. Celliant® fibers in the SPORT&RECOVERY by Schlarafia mattress cover recycle that heat and convert it into pure infrared energy and return it to your body. Your tissues and cells receive more oxygen, which improves circulation and blood flow and speeds up the recovery process.
SR1 ENDURANCE
SPORT&RECOVERY by Schlarafia SR1 ENDURANCE was tested by those for whom it is intended. Meet Ognjen Stojanović, the most successful representative of Serbia in triathlon.
better performance
faster recovery
better quality sleep
improves local circulation
improves performance
increases speed
improves the flow of oxygen to the tissues
increases strength
accelerates cell recovery
improves endurance
promotes restful sleep
recycles the energy you release during sleep
SPORT&RECOVERY by Schlarafia
SR1 ENDURANCE
available now